Journal of Equine Veterinary  Science
…. has finally accepted the research paper for publication  !!!
Use of Thermography for Functional Evaluation of Stallion Scrotum and Testes
J L Lloyd-Jones, Lic Ac,   R C Purohit DVM PhD, DACT,               M Boyle MA VetMB MRCVS,   C Shepherd BVSc MRCVS
This paper explores the use of thermography to identify an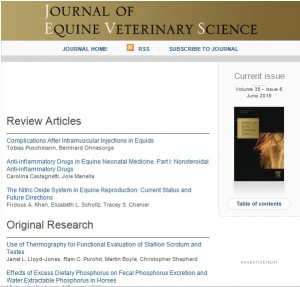 d evaluate the normal optimum temperature range of the SST (scrotal surface temperature).
It found that any subtle variation to this 'norm' would appear to impact on the Motility Score given to subsequently collected semen.
Motility Scores are an important means to evaluate a semen collection and are used to determine it's probable long term viability, particularly if the semen is to be frozen.
The research concluded Thermography could provide an ideal, non-invasive means to identify subtle changes in the 'optimum temperature range' and, if these anomalies persist,  provide an early indication that further veterinary investigation may be appropriate.
Follow the link to read more,   …
http://authors.elsevier.com/a/1RAo9_Gmb~qg9f
Fee Free until 30 July 2015