Medical & Veterinary Thermography helps 'see' the problems   …  
Thermography, or Digital Infrared Imaging (DII),  uses heat emitted from the body to 'see'  tissue damage  –  such as congestion, infection, compression or the effects of nerve damage  –  it is not used to diagnose, but provides a non-contact means to assist in making client assessments
DII  is a sensitive means to assess and identify anomalies   –  often up to two weeks before clinical symptoms occur  –  and can be used to help identify the presence, the position and the extent of a problem.
Whether for human or animal clients, it is a useful tool not only to initially assess and help pin-point the exact location of an injury or condition, but also to assist in the administration of  DII Image-guided Therapy  –  where the images are used to more precisely identify areas for treatment.   In additional, subsequent imaging can be used to help monitor the progress and effect of treatment over time.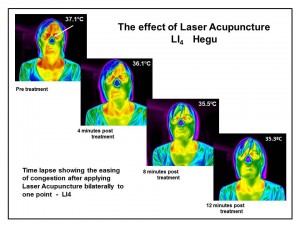 This series of images illustrate how DII can be used to monitor the immediate effect of Laser Acupuncture  …
Not only changes in the thermal pattern of the face, but also the lowering of the eye temperature…  all within 12 minutes post treatment.
(click image to enhance)
Working together with doctors, consultants, physiotherapists, acupuncturists, multi-disciplinary therapists and veterinarians  –  Thermography can help give a clearer 'picture' of issues that may be the cause of prolonged or unexplained symptoms
---
Breast Screening
Digital Infrared Imaging is increasingly being used to assist in Breast Screening, particularly where monitoring between Mammograms is required.
For more information on this and the imaging services offered at the Clinic click the image below  …
The Lightworks Clinic now offers Full Body Imaging and Reporting 
Call the Clinic for more detailed information
07712 778378