With Omicron seeming to prove less severe than first thought, we are looking forward to a more stable year in 2022  !!
That's not to say, however, that precautions are been relaxed at the Clinic  –  we are still requesting that all our clients wear facemasks and sanitise their hands upon entry and for our part, any used equipment is sanitised, the couch is wiped down, fresh air is allowed to circulate between patients and, at regular intervals, the whole clinic is fumigated.
However, there is an air of optimism this year, particularly in Chinese Astrology, where we see the start of the
Year of the Water Tiger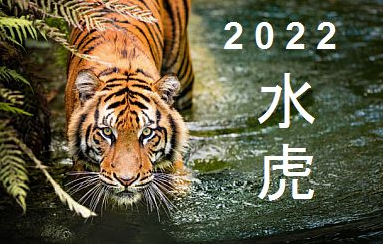 2022 is the Yang-Water Tiger year.
Yang-Water is connected to flowing water, river, or cloud.  The Tiger is characterised as being tough when facing adversity, with a strong sense of justice and a commitment for the greater good….   generating positive imagery for 2022
Look out for the celebrations at the beginning of February  …1st – 15th  !!
.More information will be released at the beginning of next month…