Another year on  …
I can't believe it's a year since I wrote that, in spite of the lockdown restrictions, we had enjoyed absolutely fabulous weather last May  –  with our gardens much advanced  !!
Compare that to this year, with our late frosts and torrential rain that blew the petals off my apple tree within a couple of days  –  I'm praying that at least some of them have set.
So it is with great Joy we have a glorious Late May Bank Holiday Weekend, with weather to enjoy and sun to soak up… at last  !!
Witness, my amazing Clematis, Candy Stripe….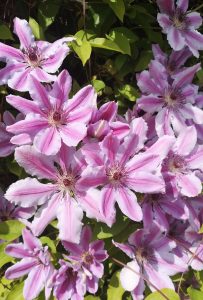 However, Dear All, please don't take your eye off the ball and relax your Covid safety standards too early  –  we are definitely NOT out of the woods yet  –  so I encourage you to continue to  ….
Be Patient,   Stay Safe,   Keep Calm
.