The first Canine Courses of 2015 have just happened !!
Saturday was an intensive day of theory and practical application of Canine Laser Therapy, where laser principles and 'core of knowledge', together with an understanding of how the laser could be applied and used in various conditions were learnt.
This was followed on Sunday by the Introduction to Canine Laser Acupuncture Course  –  with all attendees finishing the day understanding the basics concepts of Acupuncture and able to apply some of it's principles along side their existing therapies.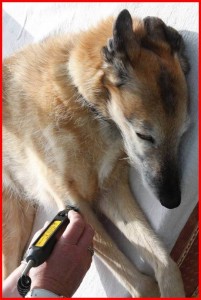 The next Canine Courses are in April 2015 :
Friday 24th April  –  Canine Laser Therapy
Saturday 25th April  –  Introduction to Canine Acupuncture
Call or email for more details :
07712 778378          info@lightworks.co.uk