The Lightworks Clinic
Suite 8
Westend Courtyard
Grove Lane
Westend
GL10 3SL
Located in beautiful Cotswold countryside, The Lightworks Clinic is situated in Westend Courtyard's uniquely converted farm buildings that combine modern facilities with 'old world' character to provide a relaxing and peaceful surrounding.
Being barely a mile from J13 off the M5, The Clinic offers easy access from both North and South approaches
Click on Map, then use the Satellite View….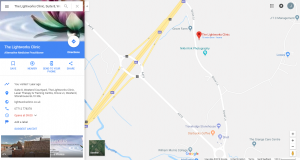 There is now a new development being built just off the roundabout, opposite the Shell garage, which is not yet shown on the Google map  –  however the directions are essentially the same…
On leaving the M5 (at Junction 13), following signposts towards Stonehouse.
At the first roundabout take 2nd Exit (immediately after the Shell garage/Travelodge/Starbucks), signposted Westend and Nupend, towards Whitminster.
Do not drive straight on, into the new Oldbury Development, but take the first left into Grove Lane
Westend Farm and Courtyard is found on the right hand side, half mile further along Grove Lane – before you cross over the motorway bridge

07712 778378
info@lightworksclinic.co.uk