Breast Cancer Reconstruction Support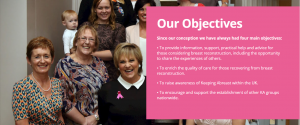 Keeping Abreast was established in September 2007 by patients Anna Beckingham and Beverley Birritteri and Breast Reconstruction nurse specialist Ruth Harcourt. They recognised a great need for women, both newly diagnosed with breast cancer and facing the possibility of mastectomy, and also women further down the line who are also considering reconstructive surgery, to be able to meet and talk to other women who have been through similar experiences. This allows women make an informed choice about whether or not to proceed with breast reconstruction
In simple terms the charity offers women who are considering or going through breast reconstruction and their families:
A national network of volunteers willing to offer support and advice.
The chance to see results of reconstructive surgery.
An informal and relaxed atmosphere to talk about all aspects of breast reconstruction.
The opportunity to meet other women who have faced or are facing similar issues.
Information, support and practical help.
Answers to your questions based on real experiences from people who have recently dealt with similar issues.
Informative talks from professionals associated with breast reconstruction as well as related procedures and general well-being
Read more about the amazing work this Charity does ….
www.keepingabreast.org.uk/about-us/